C.R. England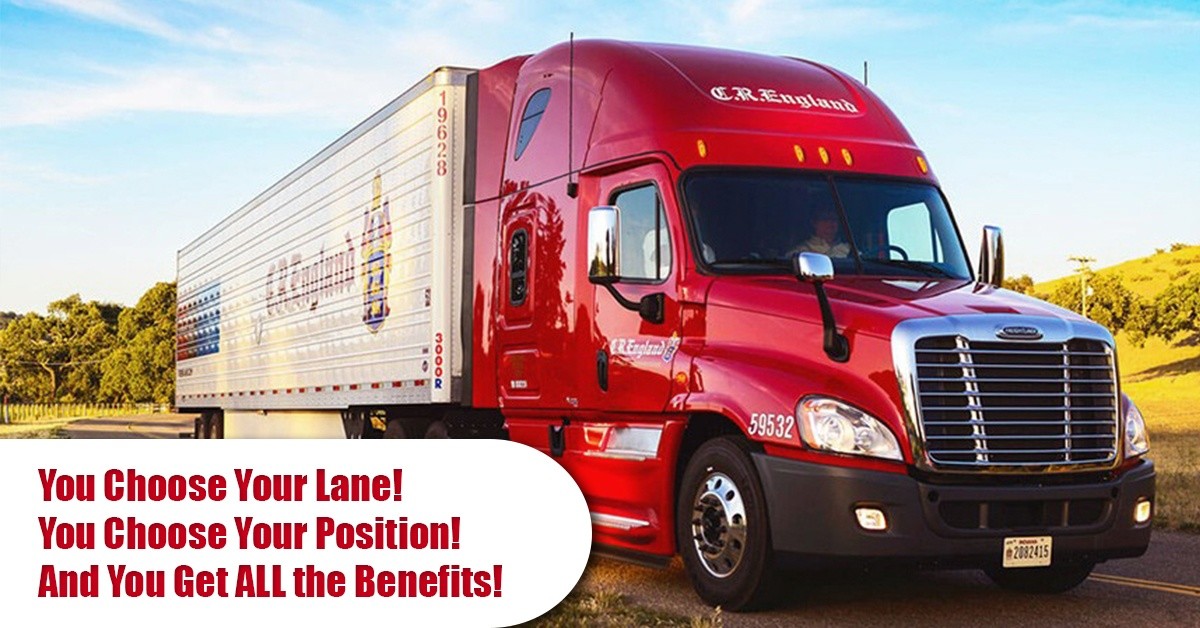 Truck Driving Jobs at C.R. England
Benefits
Health Insurance
Vision Insurance
Dental Insurance
Retirement Plan
Paid Weekly
Layover Pay
Paid Orientation
Paid Time Off
Incentives
Rider Program
24x7 Dispatch
Slip Seating
Take Truck Home
Company Overview
C.R. England
855-960-6284
C.R. England, the largest temperature-controlled carrier in the world, is dedicated to providing a comprehensive range of transportation solutions to meet the requirements of a rapidly evolving customer base. As a family-owned, customer and employee focused corporation since 1920, we are driven to maintain our leadership role through time-tested services, technology and processes. Our entrepreneurial culture and values enable us to expand reliable services while keeping our commitments to public safety, social responsibility and financial stability.
C.R. England Quick Facts:
• Founded: 1920
• Headquarters: Salt Lake City, Utah
• Ownership: Family-owned for four generations
• Driver training schools: 5
Since 1920, the name C.R. England has stood for high quality transportation services to a growing list of satisfied, prestigious customers. Experience, integrity and a solid track record have earned C.R. England a reputation as one of the world's leading companies specializing in temperature-controlled transportation products.
C.R. England serves its customers through the following business units:
• National – Long haul truckload service
• Mexico – Shipments in and out of Mexico
• Regional – Short haul truckload service positioned in the West, Midwest, and Texas and surrounding areas
• Dedicated – Tailor-made services dedicating trucks and drivers to specific customer needs
• Intermodal - Expedited priority rail service using TempStack refrigerated containers
C.R. England's wholly owned subsidiary, England Logisticsserves its customers through the following business units:
• Truckload – Truckload full services via dry van, flatbed, and refrigerated shipping
• Less Than Truckload – Domestic, temperature controlled LTL and value priced dry LTL freight shipping solutions
• Global Logistics – International shipping and freight forwarding solutions
• Supply Chain Management – freight management
• England Carrier Services - factoring solutions, fuel discounts, tire discounts, and other services
PRINCIPAL QUALITIES OF C.R. ENGLAND
C.R. England values our professional truck drivers and their safety. Our emphasis is on providing opportunities for drivers to take charge of their lives. We hire qualified individuals with no previous driving experience, as well as experienced drivers, and graduates from other truck driving schools. C.R. England's Premier Truck Driving Schools give individuals new to the industry the ability to obtain their commercial driver licenses.
At C.R. England, customer service is our main focus. We understand the importance of identifying and responding to each customer's unique needs. Our objective is delivering the freight entrusted to us on-time and safely.
As C.R. England grows, so do opportunities for non-driver employees. We are continually seeking experienced, career-minded professionals who are committed to providing high level service to our customers, drivers and independent contractors.
Call or Apply Today for More Information!
Contact Info
C.R. England
4701 West 2100 South
Salt Lake City, UT 84120
Phone Number
Recruiting : 855-960-6284
Connect with C.R. England